---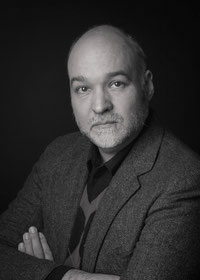 Kenneth E. Lawrence
Soju Projekt's director
I have been writing and playing music since I was five. I lived and worked in
Tokyo, Japan for years, studying the music, chant and movement of noh, then extended into other musical and theatrical styles through my training, and now
concentrate on intercultural performance, music and storytelling. I also share
and create literature using these forms and aesthetics. See my complete bio...
---
---
Kenneth E. Lawrence graduated with a Bachelors of Music in Composition/Theory from Central Washington University in 1986 and a Master of Arts in Asian Theatre from the Univesity of Hawai'i at Manoa in 2003.  He has worked at the National Noh Theatre (国立能楽堂)and the International Theatre Institute (国際演劇協会日本センター) in Tokyo. He is a writer and musician currently living in the Seattle area.
Noh : I married into a family of licensed Noh performers and worked at the National Noh Theatre in Tokyo for many years. Noh has been one of my biggest influences.
Indonesian : My travels to Indonesia and studies of Indonesian performing arts, music and storytelling have had a profound influence on me.
Shakespeare : I have been a rabid fan of Shakespeare since I was twelve.
Other : Other influences include puppet theatre and dance of Asia.
Click here for a list of my theater-related articles
Japanese : I have been studying the music and chant of Noh since 1989. It continues to have a profound effect on me.

Indonesian : Indonesia has also had a major influence on my music. I was an active member of both a Balinese and a Javanese gamelan ensemble, and I play several instruments of Sumatran Randai.
Other : Classical guitar, flamenco, flutes of the world, afro-pop and jazz.
Click here for a list of my music-related articles
Epic Poetry : I continue to be enthralled by narrative and epic poetry of the East, the West and Africa.
Samurai-realted arts: Movies, historical novels, graphic novels (a guilty pleasure).
Other : A Thousand Nights and a Night (stories within stories within stories...).
Click here for a list of my literature-related articles
Healing in Asian Arts Project :
Himalayan Singing Bowl : I am a certified Himalayan singing bowl sound therapist working with Kumiko Lawrence, LMP. 
Click here for a list of my Healing Arts-related articles
(c) Soju Kai All Rights Reserved